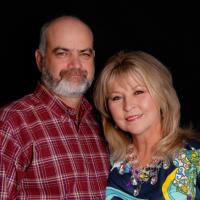 Billy and Brenda Hunter
Billy & Brenda Hunter have been Pastors of Christian Family Fellowship since 1999.  Pastor Billy has a Master of Religious Arts in Theology from Clarion Seminary and School of Ministry and Pastor Brenda is currently enrolled.  They  share a desire for the people of this area to experience the Presence of God in every area of their lives. They were married in 1993, have four children and seven grandchildren, scattered from Antlers to Durant, OK, to Tyler, TX. Building strong families for future generations is their heart's desire.
They have served in leadership as elders, youth pastors and associate pastor.  Mission trips to Haiti, South Africa, Jamaica and England have revolutionized their lives.  Pastors Billy & Brenda believe that God is a God of order and the anointing of God flows when order is established. Team ministry is a vital key in establishing God's order. People working together in unity accomplish more.
The Hunters are also owners and operators of a local roofing and construction business. They have experienced God's faithfulness as His principles are applied.